There are many ways to give back in gratitude for all God has done for us – in time, in talents, in financial stewardship – and each of these ways helps support the ministries of College Park.
Are you interested in offering your time and talents to the ministries at College Park?
We believe the most effective way to connect you to ministries at College Park is to give you the opportunity to choose a few ministries that best fit your passions and skills. Click here to view our Participating at College Park form. This has a complete list of the ministries offered at College Park and allows you to choose a few that interest you. Be sure to email your completed form to collegeparkchurchgso@gmail.com.
Are you interested in supporting our College Park ministries financially?
The most traditional way to financially support our community is through our worship offering collected during both the 8:30am Tessera service and the 10:45am Mosaic service. This is most often done in the form of cash or check (made payable to College Park Baptist Church).
Online: If you prefer an online option, you can make a onetime payment or set up recurring payments through our FaithStreet secure option.

Bill Pay: Many of our community members choose to use a bill pay option through their own bank. This mails directly to the church and does not typically incur fees for either the church or the community member.
Venmo: You may find it easier and more convenient to use a cash app for giving. You can now give to College Park using your Venmo account. Just use the QR code below.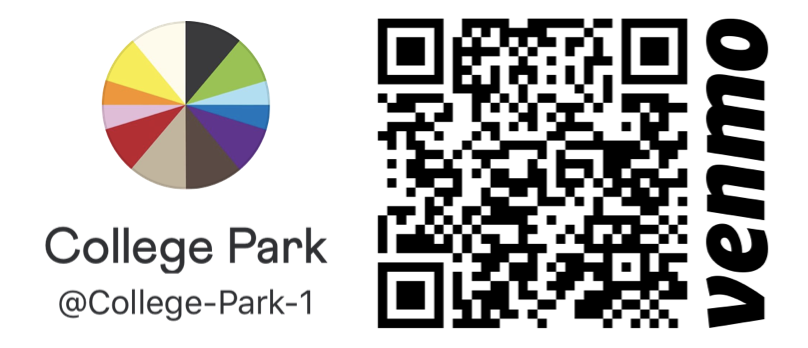 We are currently researching ways to add apple pay and amazon pay. We hope to have those available soon.
Other ways to support College Park
2022 Three Nickels Campaign
Three Nickels is a missions fund-raising program to help people living and dying in extreme poverty throughout the world. The yearly goal is to have 100 families or individuals pledge to give at least $1 per week (3 nickels per day). This year our 3 Nickels funds will support:
Liberia Mission Outreach International: In Liberia, more than 1 million people do not have access to clean water. LMIO's goal is to provide clean water, food, and opportunity to the people of Liberia. Our donation will help bring safe drinking water to more Liberian villages.
Doctors Without Borders: For decades DWB has provided medical care around the world, wherever it's needed most. It advocates for equitable distribution of COVID vaccines, and for vaccine makers to share their vaccine-making technology with low- and middle-income countries. Our donation will support DWB's ongoing vaccine work.
Project Peanut Butter: Severe malnutrition is the single largest cause of child death worldwide. PPB provides needed nutritional and medical support to severely malnourished children in sub-Saharan Africa and beyond.
Capital Campaign
We kicked off our "Access for All" capital campaign in Fall 2011. This incredible project included the steeple painting, installation of our elevator, a complete chapel renovation and the rebuild of our kitchen.  As with any other renovation project on a building with some age, there are always changes in plans and costs as you proceed. Three of our four projects are completely paid for thanks to your generosity. Learn more about our projects and ways you can support funding.