We are so glad you are interested in our community. We invite you to join us on Sunday mornings for our worship services! Our services are at 8:30am in the chapel and 10:45am in the sanctuary. We have a Sunday School hour at 9:45am. Come, ask questions, and let us know how we can make you feel at home. If you'd like to receive our weekly newsletters, we invite you to sign up for our email list by emailing collegeparkchurchgso@gmail.com. Explore our website to learn more about us, to learn about our history, or to meet our pastors and staff. You can also head over to our Upcoming Events page to see the ways we are living in community with each other.
If you are on social media, we also post regularly to our Facebook and Instagram.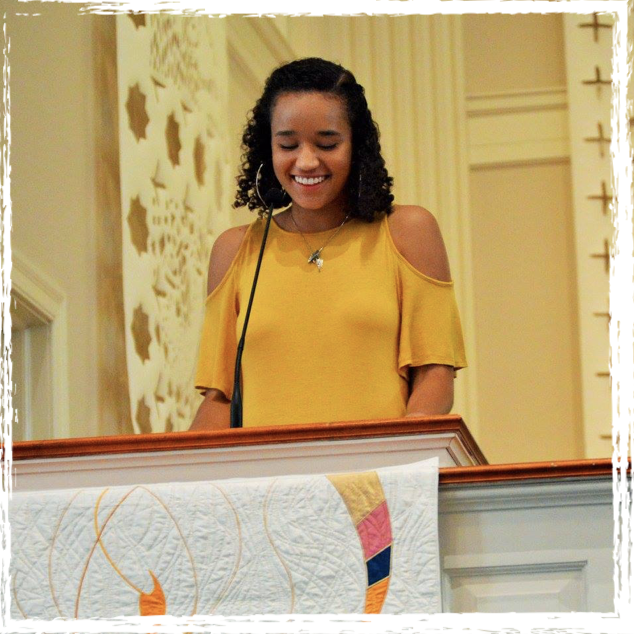 When you visit College Park Church, you will find…
an "interesting" mixture of enthusiastic, compassionate, and fun folks gathering to worship a living God. – Read more about worship
women ministers along with a variety of voices in the pulpit.
diverse music with both a traditional/blended and contemporary worship services. – Read more about our music ministry
people pitching in to help refugees begin a new life in Greensboro. – Read more about current community ministries
creative, liturgical worship that includes laughter, as well as contemplation.
a pastor who is provocative, biblically focused, humorous, and passionate, sometimes all at once.
lots of children scurrying about a new playground. – Read more about children at College Park
coffee, fellowship, and Bible study during Sunday School. – Read more about our Sunday School Classes
youth leading worship.
a close-knit youth group, recently returned from a mission trip or youth camp. – Read more about Youth at College Park
encouragement to use your Christian curiosity and open your mind to new insight on scripture.
an invitation to help us cook for and serve the homeless at Greensboro Urban Ministry.
a singles and young professionals group going skydiving or to Paris or collecting canned food for the needy.
the loan of a hammer to help us build a house for Habitat for Humanity.
a group of folks that would rather fellowship after worship than rush to be first in line at the cafeteria.
an inclusive faith community of all who confess Jesus is Lord where persons from all walks of life feel comfortable. – Read more about LGBT at College Park
To find more ways to connect with our community during the week, visit our Gather or Upcoming Events pages.
Contact us
If you have questions about anything, please give us a call, send us an email, or feel free to drop by the church during office hours [Monday-Thursday between 9:00am-1:00pm].

Our church family in Greensboro welcomes and affirms all persons without distinction regarding race, ethnicity, national origin, class, sexual orientation, gender identity or any other category created by humans. We are an inclusive, fun faith community where persons from all walks of life feel comfortable worshiping and working together to bring Christ's love to the world – doing the best we can and trying not to embarrass Jesus too much. We are not affiliated with the Southern Baptist Convention. We are affiliated with the American Baptist Churches USA, Alliance of Baptists and Cooperative Baptist Fellowship. Read more about us.