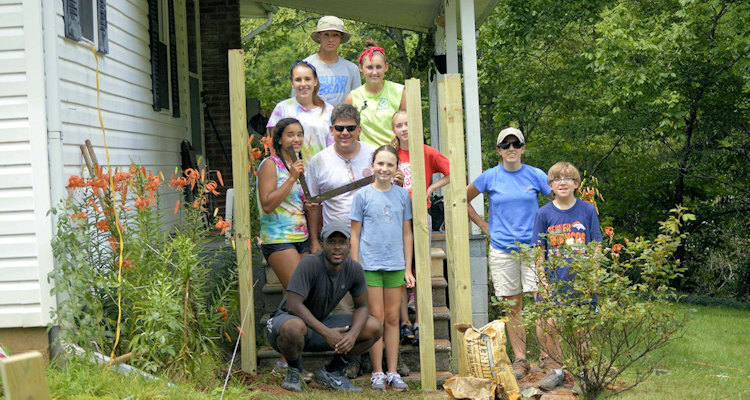 Our vibrant church ministers to folks of all ages. There are many opportunities to connect and grow with others, while lending a helping hand to each other and to those in our community and throughout the world.
"For God so loved the world . . ." College Park Church understands that we are the recipients of God's boundless love and that God has called us to show that same love to others locally and globally. Guided by College Park's Missions Committee, our faith community is currently involved in a number of opportunities to express God's love in tangible ways to other people.
How Can We Support You?
We would love to hear from you about how we as a community can support you. We have a casserole committee if you need food, we have a helping hands team if you need practical assistance, and we have a prayer team who would love to be praying for you. If you would like to receive help, please fill out this form and answer these three questions: 1.) What is your concern?2.) What is your need?3.) Are you okay with us including your need in our church wide prayer email?
Global Missions
Three Nickels is a missions fund-raising program to help people living and dying in extreme poverty throughout the world. The yearly goal is to have 100 families or individuals pledge to give at least $1 per week (3 nickels per day). Our 2022-2023 Three Nickels campaign will support:
Liberia Mission Outreach International: In Liberia, more than 1 million people do not have access to clean water. LMIO's goal is to provide clean water, food, and opportunity to the people of Liberia. Our donation will help bring safe drinking water to more Liberian villages.
Doctors Without Borders: For decades DWB has provided medical care around the world, wherever it's needed most. It advocates for equitable distribution of COVID vaccines, and for vaccine makers to share their vaccine-making technology with low- and middle-income countries. Our donation will support DWB's ongoing vaccine work.
Project Peanut Butter: Severe malnutrition is the single largest cause of child death worldwide. PPB provides needed nutritional and medical support to severely malnourished children in sub-Saharan Africa and beyond.
Youth Missions Trips
Each summer, our youth and adult sponsors spend a week living with and working alongside of communities, sometimes locally and sometimes abroad, to make a positive difference together within that community. Past years have included trips to Mt. Hope, West Virginia; Montgomery, Alabama; San Fransisco, California; Hiawassee, Georgia; Lumberton, North Carolina; Birmingham, Alabama; Laredo, Texas; New York City, New York; San Juan, Puerto Rico; Tarboro, North Carolina; and Atlanta, Georgia. Learn more about these trips.
Local Missions
Most of these ministries are on hold during the pandemic, but we plan to resume them when things become safer.
Backpack Club: Supports Out of the Garden Project to provide a weekend's worth of nutritious food for children in need at several local schools. Read about our work day.
Greensboro Urban Ministry: On the third Sunday of every month we cook and serve dinner to about 100 homeless people at Urban Ministry's Potter's House Community Kitchen. We also collect nonperishable foods every month to help Urban Ministry provide emergency food to families and individuals in need.
Creation Justice Team: Dedicated to ecological and environmental justice and stewardship.  Click link for more information.
Al-Anon: An all men Al-Anon group meets at College Park Tuesdays at 7pm.
Narc-Anon: Narcotics Anonymous "Afternoon Delight" meets at College Park Monday – Thursday at noon.
PFLAG: Made up of parents, families, friends, and allies uniting with people who are lesbian, gay, bisexual, transgender, and queer (LGBTQ), PFLAG is committed to advancing equality through its mission of support, education, and advocacy. Meeting happening virtually right now. To get sent a zoom link, email info@pflaggreensboro.org.
Girl Scouts: We are delighted to host a great troop!
Outrageous Outreach is an opportunity for College Park's children in grades 3–5 to grow in their understanding of serving God through serving others. This group is not meeting currently, but will likely resume post-Covid. Activities have included serving a meal at and collecting towels and linens for Pathways Center (a local shelter for homeless families), cleaning up the garden at Kids Path (at Hospice and Palliative Care of Greensboro), and playing games with Burmese refugee children whose parents are in English class.
Denominational Mission Affiliations
Alliance of Baptists, Washington, DC
Associated Baptist Press, Jacksonville, FL
Baptist Joint Committee, Washington, DC
Baptist Peace Fellowship, Charlotte, NC
Cooperative Baptist Fellowship, Atlanta, GA