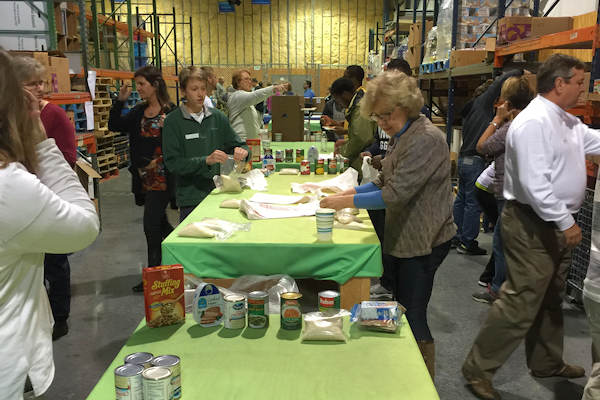 College Park's Community Impact: $125,000 in 2015
You often hear about the economic impact that a company or major event has on a community. How do you measure the impact in dollars that College Park makes on our community and world? You certainly can't put a price tag on the fellowship, support, counseling and education that hundreds of members and visitors receive. And how to compute the value of our building spaces used by so many other groups or service hours by members at organizations that we support? Our members are so talented in multiplying our gifts (think five loaves and two fish) to help thousands locally and internationally. Looking back at 2015, the "community impact" value of our cash donations, service hours and building use by other non-profit groups easily exceeded $125,000.
Here are some highlights:
We cooked and served dinner at Greensboro Urban Ministry (GUM) on the third Sunday of every month, each meal feeding 100+ homeless residents at Potter's House. In December, members also donated socks, gloves and scarves to give to all dinner guests. Also, church members donated 1,229 pounds of canned goods for GUM's food pantry. That value alone exceeds $20,000.
Our backpack program to provide weekend food to school children and their families included 100 bags each week of the school year, delivered to nearby Peck Elementary School by church volunteers via Backpack Beginnings. Plus, many volunteered and donated to Out of the Garden Project to feed even more families through OOTGP's mobile food pantries and school cafeteria food reclamation program. All of this easily exceeded $30,000 in value.
Through our Three Nickels Fund, we helped people living and dying in extreme poverty outside the U.S. by giving $5,000 to Doctors without Borders, Next Generation Nepal and Watering Malawi.
With our Energeia Quarterly Community Ministry, church volunteers donated hundreds of hours at the Welfare Reform Liaison Project, Greensboro Burrito Bikers and Out of the Garden Project.
Through the generosity of church members, last year's Missions Christmas Tree project collected $3,000 in cash, gift cards, clothing, books and food for both children and adults needing a helping hand.
On Christmas Eve, our worship offering raised $1,555 for Heifer International to purchase 50 bee hives for farmers in Guatemala to build sustainable agriculture.
We sponsored two students last year at the Ruth School in Bucharest, Romania.
Our building was used free-of-charge by 30+ community groups in 2015, providing $50,000 worth of rental space. The groups included three Girl Scout troops, weekly Al-Anon meetings, kids summer theater camp, various UNCG groups, PFLAG, NA, Grimsley High School and many more.
With Outrageous Outreach, our small children set a great example for us all with their community service projects.
We support and help each other, including buying spaghetti dinner tickets from Betty Withers for Senior Wheels, buying cookies or popcorn from scouts and pitching in with the Helping Hands ministry team.
Most of us don't hear about the speaking engagements to community and groups provided by our ministers.
Youth Mission Trips not only provide a wealth of learning and growing for our grades 6-12 attendees, they provide thousands of dollars' worth of aid to those in need. During last summer's mission trip, they repaired and improved substandard housing for elderly and low income home owners in Birmingham, AL.
Even more is planned in 2016 – so please join us in this work since there is much to be done!